DEATH:
Hey there, living people. Welcome to Post Mortem, the fake online talk-radio show where fictional characters talk to me about their books, their Authors, and basically anything they want. I'm your host, Death.
We're doing a very special two-part interview today. Actually, make that a Very Special two-part interview. (Nothing shouts "special" more than initial caps.) The first part is on The Book Smuggler's website, which has me interviewing Jackie Morse Kessler, author of HUNGER. The second part is on Jackie's website, where I interview Lisabeth Lewis, the protagonist of HUNGER.
Yeah, I get to interview both of them. [GRINS] Death knows no limits.
~ PART TWO: POST MORTEM ~
DEATH:
The next guest on Post Mortem thought at one point that if she'd be any Horseman of the Apocalypse, she'd be War. Well, she found out the hard way that she was much more suited to be Famine.
According to bestselling author Rachel Caine: "HUNGER is not just a good book. It is a great book. It is funny and sad, brilliant and tragic, and most of all, it speaks truth. I adore it." And bestselling author Richelle Mead calls HUNGER "Fast-paced, witty, and heart-breaking! Jackie Morse Kessler is one of the most talented authors I know." Kirkus says "[Kessler's] ear for dialogue, fluid prose and dark humor elevate this brief novel above other 'issue books.' " And according to Booklist, "Kessler offers a refreshingly new approach to the YA eating-disorder genre that reinforces the difficulty of conquering these diseases."
Living people, give a warm welcome to the protagonist of Jackie Morse Kessler's HUNGER…Lisabeth Lewis!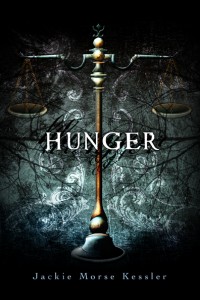 [APPLAUSE]
Hey, Lisa!
LISA:
Hey. [LEANS IN] So, uh, am I supposed to pretend that I don't know you?
DEATH:
[QUIETLY] Just roll with it.
LISA:
Okay. I'm just worried about spoilers.
DEATH:
Never fear. That's what editing is for. [GRINS] What, you thought the scythe was just for reaping lives? I believe in multitasking.
LISA:
Um. Great.
DEATH:
So in your own words, what is HUNGER about?
LISA:
I don't realize that I have an eating disorder, or what that even means, until after I become Famine, one of the Four Horsemen of the Apocalypse.
DEATH:
What was worse for you: being anorexic, or being Famine?
LISA:
Can I just say "Yes"?
DEATH:
Sure.
LISA:
Well then. Yes.
DEATH:
'Splain, please.
LISA:
Having an eating disorder isn't like a switch I can flip on and off. It's…everything, you know? It's all I think about. It's my whole world. And it's not like I want it to be. I have a boyfriend and a best friend, but I keep pushing them away. And my parents, God, don't even ask me about them. The only one who gets me is another friend who's bulimic. That's what my world has become. It's this nasty voice in my head, telling me I'm not good enough. I'm not thin enough. And I keep hoping that when I'm finally thin enough, everything will be okay.
DEATH:
And is it?
LISA:
I don't know. I'm not thin enough. Don't you see? I'll never be thin enough. [BREATHES DEEPLY] That's what it's like. Everything is about food and calories and how long it would take to exercise away the little bit that I've eaten. I don't want this. But I can't help it.
DEATH:
And then you became Famine.
LISA:
[NODS] And everything got so much worse. Because then it wasn't about me choosing not to eat. Then it was me seeing how people are starving not by choice but because rats and floods have destroyed their crops. How am I supposed to reconcile being anorexic when other people are starving? It's messed up. And that's not even counting how I accidentally ash away the food. And then what I did to my mom… [SHUDDERS]
DEATH:
Did anything good come out of what happens to you?
LISA:
Oh yeah. [SMILES] Everything good comes out of it. I find out that I'm stronger than I ever believed I was, and I'm able to do more than I thought possible.
DEATH:
See, that's the cool thing about living people. You can learn.
LISA:
It wasn't easy.
DEATH:
Where would be the fun if it were easy? [SMILES] In HUNGER, were there any parts of the story where you were like, Jackie, what on earth are you making me do? Or were you and your Author in sync the entire time?
LISA:
Oh my God, Jackie hates me! Do you know what she put me through?
DEATH:
Actually, yes. I was there.
LISA:
Oh. Right. So you understand. She's horrible. I hate her.
DEATH:
Aw. Someone needs a hug.
LISA:
Ah…I'm good, thanks.
DEATH:
If you could change any part of HUNGER, what would it be?
LISA:
I wouldn't have an eating disorder. I'd like myself for who I am. And I wouldn't have tried to overdose. [FROWNS] And I absolutely wouldn't have answered the door and accepted the package you gave me.
DEATH:
Hey now. It's not like I forced you to take it.
LISA:
No, you were just all "Thou art Famine, thou art the Black Rider."
DEATH:
You could have said no.
LISA:
I was intimidated! You're Death! That's intimidating!
DEATH:
[GRINS] Yeah, I can see that. If you could make your Author, Jackie Morse Kessler, do anything, what would it be?
LISA:
I'd make her relive her life in high school. Specifically, chemistry and trigonometry, two of her worst subjects. And I'd make her always have to wear braces. And I'd make her face break out. A lot. And…
DEATH:
I'm sensing some hostility.
LISA:
Did you read HUNGER? I think I deserve a little payback.
DEATH:
Heh. Duly noted. If HUNGER were to go the way of Hollywood, who would play you?
LISA:
Hmm. I think it should be someone unknown. Someone the world is waiting to discover.
DEATH:
What about me? Who should play Death?
LISA:
Since you look exactly like Kurt Cobain, I think Ewan McGregor should play you, since he's going to be playing Kurt in the biopic.
DEATH:
Sweet. If there's one piece of advice you can give to your fans, what would it be?
LISA:
It's not about being thin, no matter what the Thin Voice says. It's about being healthy.
DEATH:
Words to live by. Finally, who's your favorite Horseman of the Apocalypse?
LISA:
Frankly, they all scare the hell out of me. But my steed, Midnight, was awesome. So I pick the black horse.
DEATH:
[SMILES] Nicely put.
Living people, give another warm round of applause to the protagonist of Jackie Morse Kessler's novel HUNGER…Lisabeth Lewis!
[APPLAUSE]
You can buy HUNGER at Barnes & Noble, Borders, your favorite local indie, and Amazon.
Thanks for tuning in to part two of this Very Special interview. For part one, please go to the Book Smugglers' website.
Until next time, go thee out unto the world. Rock on!